English as a Second Language Classes
Monday & Wednesday 11:00am-12:30pm
Tuesday & Thursday 10:00-11:30am
Or register in-person at CMC anytime before, during, or after class.
English classes for beginner through intermediate learners. Classes are all taught by experienced volunteer instructors. To participate, students may come during any weekday class period to register and take an assessment so they may be placed in the appropriate class. Child care is provided while parents or caretakers attend class. For more information, call us at 608-441-0117.
Can't attend a class? Register for online tutoring.
Citizenship Class
Not currently scheduled due to the pandemic
CMC offers citizenship classes periodically for people preparing for their citizenship exam and interview. The courses cover US History and Civics, reading, and writing in preparation for the citizenship exam and interview. Students will study the 100 questions used on the citizenship exam and work on study skills for passing the exam.
**The courses are offered periodically several times each year; call us at 608-441-0117 to find out about the next courses available. Advanced registration may be necessary.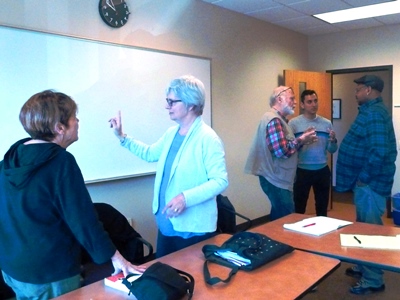 Spanish as a Second Language Class
Saturday
Not currently scheduled due to the pandemic
Weekly class teaching beginning to intermediate Spanish to English-speakers. No pre-registration is required, and drop-ins are welcome. New students are accepted on an ongoing basis. Contact Lilliam for more information: 608-441-3257.