Due to staffing shortages, Culinary Creations Catering is currently not accepting new customer orders.
Place your next Madison area Catering order with Culinary Creations!
Culinary Creations offers affordable, high-quality catering services for events such as fundraisers, church functions, meetings, and community events. We offer breakfast, lunch, dinner, and appetizer options. Each order provides meaningful hands-on training and work experience in food service to individuals who have experienced significant barriers to employment.
Looking to rent space for your catered event? Check out CMC's two available facilities here.
Due to staffing shortages, Culinary Creations Catering is currently not accepting new orders.
Culinary Creations Catering: A business with a purpose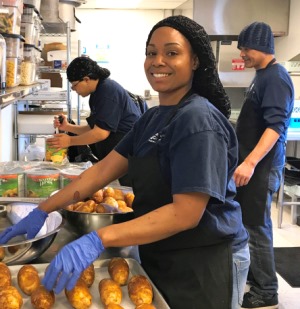 Culinary Creations Catering was initiated in 2012 with the aim of providing food service training and work experience to people struggling to find and keep employment. It was created to help talented, motivated individuals overcome barriers to employment ranging from a past criminal record to physical or mental health issues to lack of skills and training to societal injustices.
Culinary Creations Catering works with each individual to overcome their own personal barriers to professional advancement. A pre-kitchen training covers on-the-job communication, interview practice, team-building, ServSafe certification, and more. Individualized support from CMC staff helps trainees meet their basic needs so they are free to be successful on the job. After completing paid, hands-on training in the kitchen, trainees are offered a referral for an interview with an employee partner and 90 days of post-placement support. This comprehensive career building support offers trainees a strong foundation to help them obtain and maintain employment.
Want to support the social work of Culinary Creations Catering? The enterprise caters to any organization or group looking for a catering option that they can feel good about, knowing that each purchase fosters life-changing job training and support. See or leave a review for our catering services on Yelp
Culinary Creations Staff
Lynn Heiman – Manager