Culinary Creations Catering offers meaningful employment in foodservice to individuals who have experienced significant barriers to employment, providing both work experience and development opportunities which give individuals the experience they need to advance their culinary careers. Culinary Creations caters events such as fundraisers, church functions, meetings, and community events. We offer breakfast, lunch, dinner, and appetizer options.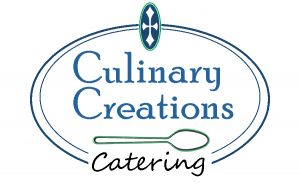 View our menu for a list of our current culinary offerings.
Interested in using Culinary Creations Catering for your next event or meeting? Fill out a catering order request to place an order.
NOTE: See the Facility Use page for catering coinciding with CMC room rentals, in place of using the catering order request form.
Culinary Creations Catering: A business with a purpose
 Culinary Creations Catering was initiated in 2012 as an offshoot of the CMC foodservice training program with the aim of providing a direct link to employment for qualified training program graduates. It was created to give people a chance when no other employer would. The enterprise helps talented, motivated individuals overcome barriers to employment ranging from past criminal record to lack of skills and training. The project is innovative in that it not only teaches the know-how for culinary skills, but also provides employees with opportunities for leadership and professional development.
Culinary Creations Catering works with each individual to overcome their own personal barriers to professional advancement. This is done through leadership opportunities, professional and leadership development trainings, and offering a say in the business itself. Staff input on what they want to learn and gain from their time at the enterprise is valued and guides what development opportunities the enterprise offers.
The enterprise serves any organization or group looking for a catering option that they can feel good about, knowing that the employees are treated with dignity and respect and in recognizing that employment at the business is more than just a job.
Culinary Creations Catering Staff
Lynn Heiman – Manager
Joseph Crenshaw – Associate Caterer
Catering Assistants
Larry Allen
Deborah Edoh
Marilyn Turner
Jerome Smith
Devarn Triplett Jr.