Culinary Creations Catering offers meaningful employment in food service to individuals who have experienced significant barriers to employment. Our job training program provides both work experience and development opportunities which give individuals the experience they need to advance their culinary careers. Culinary Creations caters events such as fundraisers, church functions, meetings, and community events. We offer breakfast, lunch, dinner, and appetizer options.
NOTE: See the Facility Use page for catering coinciding with CMC room rentals, in place of using the catering order request form.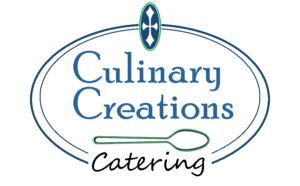 Culinary Creations Catering: A business with a purpose
Culinary Creations Catering was initiated in 2012 with the aim of providing food service training and work experience to people struggling to find and keep employment. It was created to give people a chance when no other employer would. The enterprise helps talented, motivated individuals overcome barriers to employment ranging from past criminal record to long-term joblessness to lack of skills and training.
Culinary Creations Catering works with each individual to overcome their own personal barriers to professional advancement. This is done through a pre-kitchen training covering on-the-job communication, interview practice, team-building, and more, and through individualized support CMC staff offers trainees every step of the way. Trainees who complete the program have a solid foundation on which to stand: basic culinary skills, comprehensive career-building support, and when they graduate, a referral to an area employer partner for a job interview.
Want to support the social work of Culinary Creations Catering? The enterprise caters to any organization or group looking for a catering option that they can feel good about, knowing that the employees are treated with dignity and respect and that each purchase supports life-changing job training and support.
Culinary Creations Catering Staff
Lynn Heiman – Manager
Joseph Crenshaw – Head Chef
Marilyn Turner – Catering Assistant