Thank you for thinking about the families and individuals who seek help at the Catholic Multicultural Center. Your support truly makes a difference to the CMC and to those we serve.
Donate Online
In-Kind Donations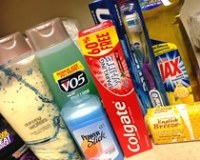 Personal essential items
Shampoo
Bar soap
Men's and women's deodorant
Dish soap
Toilet paper
Men's razors
Please note that standard sizes (not jumbo or travel size) work best for personal essentials
Food for the pantry
Thanks to your generosity, the CMC is well stocked with food for the pantry. We do not recommend that you donate food to us at this time. If you would like to see if we are able to use the food you wish to donate, please call us first at 608-441-3249.
Other donations
Coffee
Dry Erase markers and erasers
Kleenex
Pens
Office (printer) paper
Reusable bags
If you would like to donate something not on these lists, please contact us with any questions. Due to lack of space, we are not able to accept any clothing, furniture, electronics, or other items. We appreciate you thinking of those in need and encourage you to donate these types of items to St. Vincent dePaul. The CMC is able to provide clothing and household items to our guests by referring them to St. Vincent dePaul's to receive a free store voucher.