Volunteer Opportunities at the CMC
The programs and services of the Catholic Multicultural Center, located in Madison, WI, depend upon the many helping hands of volunteers like you! The CMC has volunteer opportunities for all ages and abilities for both individuals and groups.
Ready to get involved? Click below or call Volunteer Coordinator Sarah Beghin at 608-441-0117 to schedule a time for an orientation.
Volunteer Positions
Please note that not all positions have immediate openings. You can also see our volunteer positions with descriptions on VolunteerYourTime.org.  Looking for group opportunities or information about court-ordered volunteering? Click here.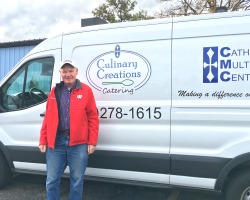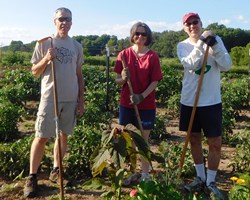 English as a Second Language

Employment Search Assistance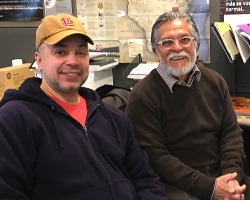 Receiption Desk
Grounds
Meal Cook
Meal Server
Homework Club Tutor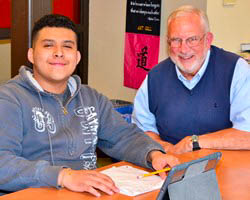 The CMC welcomes the help of groups of all kinds (corporate, youth, faith-based, etc.). Interested in bringing your group to volunteer?
Please contact us at least two weeks in advance to arrange group opportunities.
Volunteering must take place during normal hours of operation.
The maximum group size is no more than 10 for helping at the CMC and no more than 15 for helping at the food pantry garden. If you have a larger group, contact us in advance to see if arrangements can be made.
Groups of all ages are welcome, with some restrictions. Groups age 18 and under must come with at least one adult supervisor per 6 youth. For serving in the meal program, we can only accept groups age 12 and older.
The primary opportunities for groups to help at the CMC are: helping at the food pantry garden (May-September), serving a weekday afternoon meal, or doing cleaning, organizing, and light maintenance projects throughout the Center. Food drives, advocacy on issues affecting our guests, and personal essentials drives are other creative ways your group can help the CMC!
If you are required to do court-ordered community service, volunteer opportunities are available.
Volunteering takes place during regular business hours, weekdays 9:00am to 5:00pm. To arrange court-ordered volunteering, contact Antonio Quintanilla using the staff contact form or by calling 608-441-3249.
Please note, CMC is located in Madison, Wisconsin. For court-ordered service in your geographic area, please search the internet or contact your local United Way.